Multiple Workshop Account
Applies to Admin
First off, you need to register your account as administrator. In order to do that, please refer to Setting Up Workshop Account article.
To create a new workshop account, please follow the steps below:
1. Login to your account.
2. Once you Login, it will redirect to Workshop's page.

4. Click on New Workshop button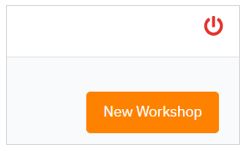 5. Field in the required information.




3. When you are finished, click Submit button. There are cancel button if you do not wish to create new account.